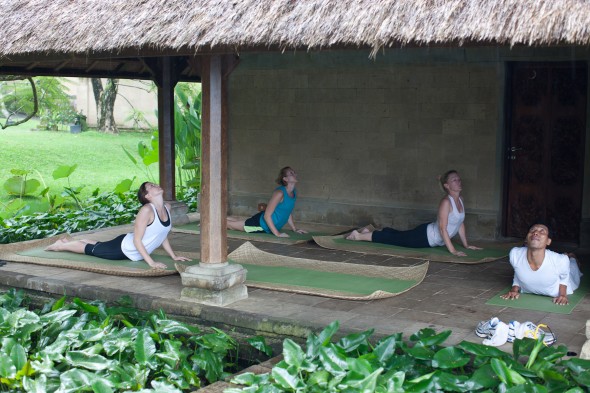 An early morning yoga session with yogi, "Putu" was a great start to the day!  It took place in an open-air pavilion and the soft pitter-patter of falling rain, tree frogs singing and birds chirping were a stark counterpoint to the claustrophobic, sweaty walls of my yoga studio at home.  Sadly, it was a morning of packing and preparing to leave the blissful Amandari compound.  When I come back, I may just check into the hotel and never leave!
Last night we had our farewell party, in spite of a downpour, in the hotel's 3-bedroom villa which is LOVELY and would be perfect for a family or three couples traveling together (approximately $3750/night).  It comes with a full staff and fleet of cars & drivers for exploration of the area.  We were joined by Dr. Lawrence Blair, anthropologist, explorer, author and film-maker of "Ring of Fire" (a book and PBS series), based on his ten-year odyssey through the "Spice Islands."  He and his wife, Ally, had just come off the Seabourn Legend after a month long lecturing circuit.  He kindly inscribed copies of his book which we'd arranged as pillow gifts for this evening.
Dinner in Amandari's restaurant followed, and we all ordered a la carte…having had every variation imaginable of fried rice, street noodles, and other Indonesian delicacies the past several days, I was in the mood for western fare and had a delicious Spaghetti Carbonara.  Chef Bernard had looked after us so well these past few days; he is half German/half Mexican and had some creative ideas and presentations.  For example, for breakfast today I had his take on bruschetta: a baguette with avocado, gruyere cheese, poached egg and pesto sauce — out of this world, albeit a bit messy to eat!
With over 4000 temples on the island of Bali (and Bali just one of the 13,000+ islands that comprise Indonesia), one can't help but notice that it is a spiritual kind of place.  Processions, festivals, and rituals are a part of everyday life.  Many artists have come to Bali, and particularly to Ubud, to be inspired by its natural beauty.  For every temple, there is also an art gallery!
Mid-day we headed for Sanur, one of Bali's beach areas, and had lunch en route to the port.  Orion II was moored at the pier and we embarked smoothly and were shown to our staterooms.  We're in Cabin #248, which I am delighted with — although some might not choose this because it is on a lower deck and has portholes instead of the larger picture windows and/or balconies on higher floors, but 275 square feet which is HUGE for a ship and a large walk-in closet has more than accommodated my heap of luggage.  (I've also decided that the big closet might come in handy for sea-sickness — i.e. getting into a dark room).  Camera gear is spread throughout the room, but plenty of space!
We've had the safety drill and are preparing to sail shortly!  A total of eighty passengers are on this sailing, and all hoping to have an encounter with an orangutan!  It seems that most of the other guests are Australian, but have met a few folks from the UK and a handful of other Americans.
Indonesian Interlude: Bali